Forced displacement and involuntary migration have increasingly become urban phenomena. Globally, UNHCR estimates that more than 60 percent of all refugees and 80 percent of all Internally Displaced Persons (IDPs) are currently living in urban areas. This is further accelerated by climate change and related factors.
By 2045, over 70 percent of the world population will live in cities. This rate will be the highest for African cities, and especially for secondary cities. Today there are nearly 900 secondary cities in Africa with little capacity to plan urban expansion. UN-Habitat defines a secondary city as an urban (and peri-urban) area usually having a population of between 100,000 and 500,000 (see UN-Habitat 1996, An Urbanising World: Global Report on Human Settlements in 1996). In the context of Sub-Saharan Africa, secondary cities are urban centres whose rapid urban and peri-urban development often presents enormous immediate management problems, but also mid-to-long term opportunities.
In recent years, the EU has worked together with partners to support cities and local governments hosting displaced populations. Through its EU Trust Fund Programme "CRRF: Inclusive Urban Development and Mobility Action" (2019 – 2023), the EU, along with partners in Ethiopia and Uganda, helped strengthen the capacity of local authorities to deliver services and undertake contingency planning, support refugees and cities' host communities and improve their livelihoods. Cities Alliance, a global partnership fighting urban poverty and promoting sustainable urban development, has implemented part of this Action. Through the technical support component, seven municipalities from four partnering countries in the Horn of Africa were selected to address the dual challenge of rising number of displaced people and unplanned urbanisation.
the EU's international role | international cooperation

Wednesday 7 June 2023, 15:00 - 17:00 (CEST)
Practical information
When

Wednesday 7 June 2023, 15:00 - 17:00 (CEST)

Where

Languages

English

Organisers

International Partnerships InfoPoint
Description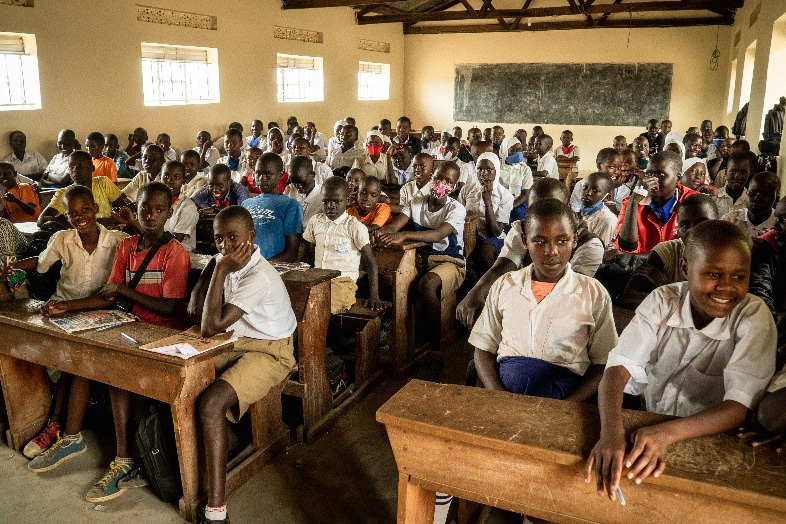 Over 70 million people worldwide are fleeing their homes because of persecution, conflict, generalised violence, or human rights violations. Most refugees and IDPs live in urban or peri-urban areas instead of camps or purpose-built settlements. This shift has put considerable pressure on cities, especially fast-growing secondary cities in developing countries that are already struggling to meet the needs of their populations. Following the 2016 New York Declaration for Refugees and Migrants, in 2018 the UN General Assembly affirmed the Global Compact on Refugee (GCR) as the non-binding global framework for more predictable and equitable responsibility-sharing. The CRRF is incorporated into the Global Compact. The Compact explicitly notes the need to engage with local authorities in urban settings and the potential of networks of cities and municipalities in establishing best practices.
City municipalities that can successfully manage the population increase resulting from refugees and rapid urbanisation will be better able to tackle demographic rapid urbanisation. Municipal governments have thus become key actors in managing these processes.
This conference aims to present the results of the "CRRF: Inclusive Urban Development and Mobility" action. It will highlight the important role that cities play in an era of increased and protracted displacement, migration and rapid urbanization. It will focus the discussion on local authorities and their role in shaping and building inclusive and resilient futures for their citizens. Through a live stream connection in Koboko, a city in Northern Uganda, participants will be able to learn how the municipality has made best use of direct support from the "Inclusive Urban Development and Mobility Action" to improve municipal planning and basic services delivery. The EUTF-funded program in Koboko is being implemented by the Koboko Municipal Council with technical support from ACAV, an INGO operating locally. The Action has prioritised strengthening already existing local structures instead of creating parallel support systems. Urban authorities are directly involved in promoting the inclusion of displaced persons in the economic and social life.
Perceptions of the CRRF and the GCR vary from country to country, and the implementation of the action relies on national policy coordination and international arrangements. Urban displacement is, however, only partially reflected in national policies. Support to host governments in the region through the CRRF remains mainly centred on camps or rural settlements, with little attention paid to urban and semi-urban areas that host (or will host) an increasing number of refugees. Additionally, secondary cities are rarely represented in international discussions and panels to share the challenges and opportunities they face when trying to implement the global agenda. Local municipalities have pointed out that even if national plans are adopted, implementation at the city level faces challenges in the availabilities of technical, human, financial, and logistical resources and capacity.
The Action "CRRF Inclusive Urban Development and Mobility" project was divided into three components:
A regional dialogue including representatives from secondary cities to foster peer-networks and knowledge exchanges on the challenges and opportunities resulting from urban displacement in the context of urbanisation, implemented by Cities Alliance.
A pilot project providing direct support to Koboko Municipality in Uganda to address pre-existing low coverage of basic services and ahigh concentration of refugees. ACAV has been selected to provide technical support to Koboko Municipality to develop and implement inclusive participatory and sustainable strategies for urban planning and services delivery.
A similar pilot action in Assosa, Ethiopia,implemented by IRC.
All three components aimed to equip secondary cities with tools to increase the safety and well-being of displaced populations and their host communities in urban and peri-urban settings. By providing knowledge and technical assistance to local authorities and by increasing the participation of displaced persons and host communities in the city's economic and social life, the Action aimed to reduce inequalities between these groups and improve their living conditions.
Speakers
Jorge Pereiro Pinon, Head of Sector INTPA A2 regional and multi-country programming in Sub-Saharan Africa
Hon. Sanya Wilson, Mayor of Koboko Municipality
Malish Bonjira Asu, Executive Director, South Sudanese Refugee Association, Koboko
Harriet Dozu, Social Worker and Host Community Representative, Koboko
Laura Lima, Ph.D, Head of Global Programme, Cities Alliance
Katie Ogwang, Senior Protection Officer, UNHCR Regional Bureau for East, Horn & Great Lakes Regions of Africa
Claire Roberts Lamont, Multi-Stakeholder Partnerships-Cities, UNHCR
Samuel Mabala, Country Urban Advisor Uganda, Cities Alliance
Language of conference: English
Language of Q&A session: English
Registration