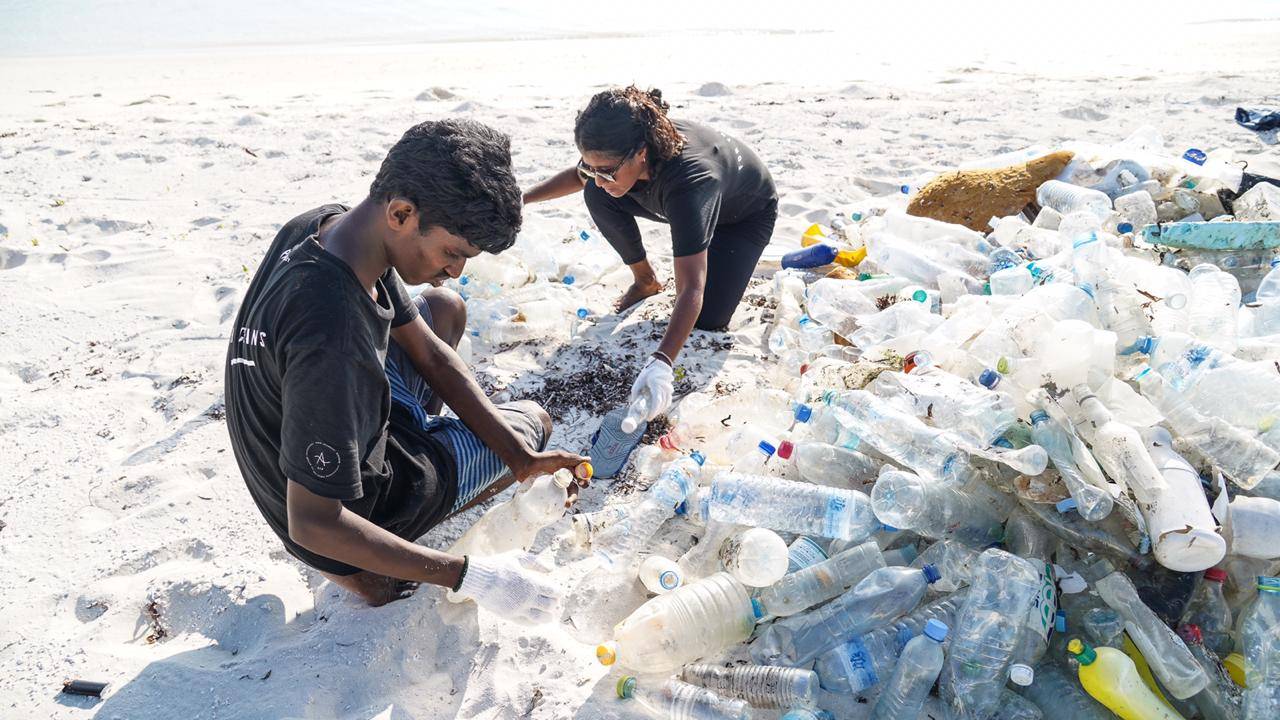 The Challenge
Marine ecosystems continue to suffer from increasing pollution. As a result, marine litter has become a global concern and currently witnesses growing awareness amongst the general public.
The majority of marine litter stems from items that have been discarded, or transported by winds and rivers, into the sea and on beaches. It mainly consists of plastics, wood, metals, glass, rubber, clothing and paper. Land-based sources account for the majority of marine litter – these include tourism, sewage and poorly managed landfills. In this context, tourism industries have been identified as major contributors to marine litter due to high consumption rates of products wrapped in single-use plastic packaging.
Marine litter is not just unsightly. Large fragments on beaches can cause injuries. Sewage-related and medical waste may be a risk to human health. There are also economic consequences such as the loss of income from tourism, and the cost of removing litter from beaches and harbours.
Marine litter can also affect marine species by restricting their movements, reducing their ability to catch food, or cause lacerations and infections. Marine debris can also damage seabeds, affecting the plants and animals that live there.
In many touristic regions of the global south, this is aggravated by the absence of effective policy frameworks for solid waste management, a lack of consumer awareness and insufficient capacities of local authorities to handle the increasing amounts of waste and the substantial growth in tourism.
In particular, countries of the South Asian Seas region struggle with the management of the increasing amounts of waste. There is a pressing need to curb marine pollution in the ecosystems of the Lakshadweep Sea shared by Maldives, Sri Lanka and India. Low per capita income, high population densities and a high dependency on natural resources makes these areas highly vulnerable to the impacts of marine pollution.
The Objectives
The PROMISE project, part of the SWITCH Asia programme, seeks to promote source-to-sea solutions to reduce marine littering in tourism clusters along the Lakshadweep shorelines of the Maldives, Sri Lanka and India. It focuses explicitly on small and medium-sized enterprises contributing to the tourism sector to support them in waste minimization, thus enhancing the attractiveness of tourism industries, avoiding further deterioration of marine ecosystems and improving people's living conditions.
The Way Forward
Establish a knowledge base for the status quo of marine littering in touristic areas along Lakshadweep shorelines;
Support small and medium-sized enterprises from tourism clusters in the Maldives, Sri Lanka and India in implementing systems for producing less waste in their business operations and strategies;
Conceptualisation and initiation of "Lakshadweep Zero Waste Alliance";
Enable access to finance for small and medium-sized enterprises to implement more costly waste minimization options;
Strengthen regional policy frameworks for waste management in coastal areas and contribute to reduced waste generation and littering in the three target countries;
Inform wider stakeholder network about the approaches to waste prevention.
SWITCH Asia - Website
Prevention of Marine Litter in Sri Lanka
https://www.switch-asia.eu/resource/prevention-of-marine-litter-in-sri-…
Prevention of Marine Litter in India
https://www.switch-asia.eu/resource/prevention-of-marine-litter-in-indi…
Implementing organisations
The Maldives National University, Adelphi Research gGmbH, National Cleaner Production Centre Sri Lanka, Parley for the Oceans, STENUM Asia Sustainable Development Society, The Energy and Resources Institute
Project duration

-

Project locations
Overall budget

€3 709 880

EU contribution

€2 967 900

80% of the overall budget