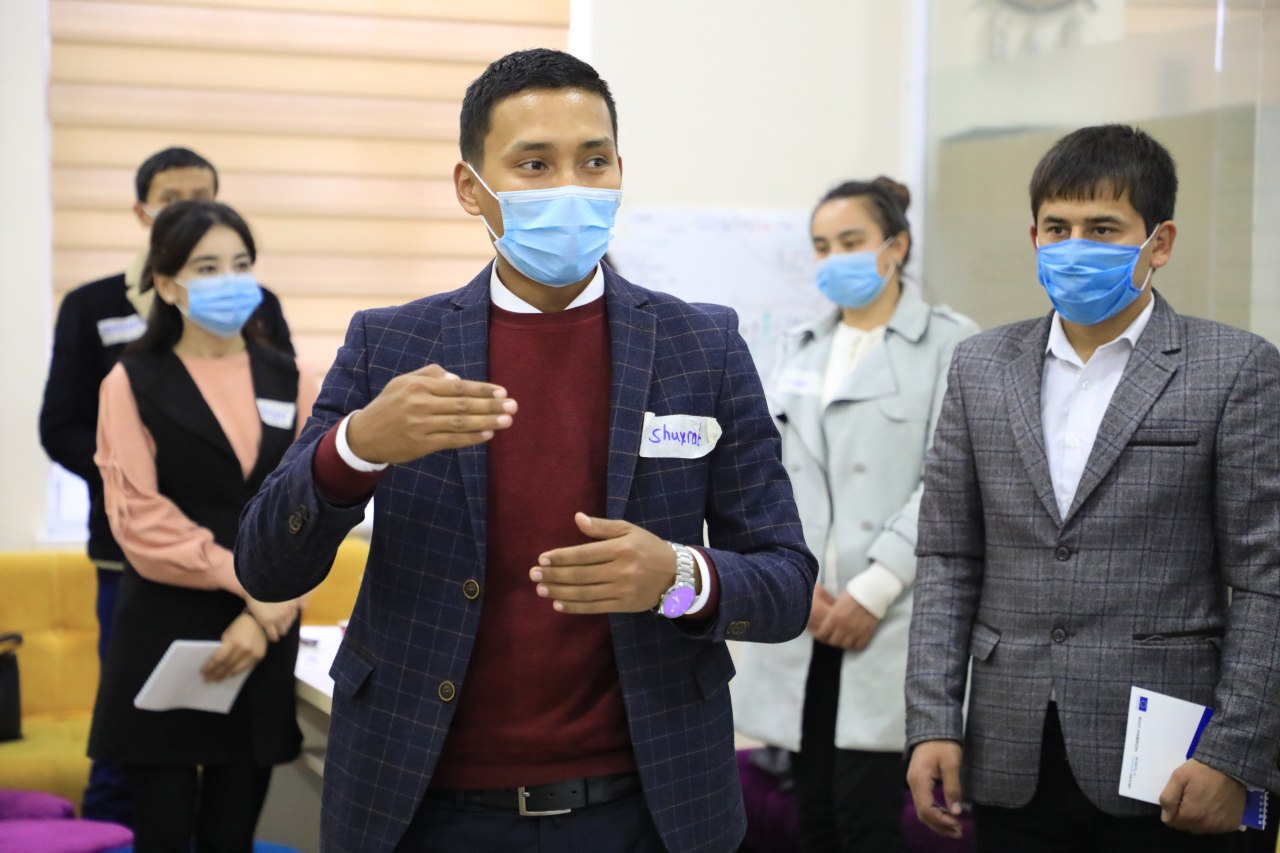 Many youth civil society organisations (CSOs) do not function well in Andijan due to their limited capacity and a lack of access to funding to support their work. In addition, even though public officials are in favour of change, there is little willingness to build a genuine dialogue with the wider population at the local level, especially when it comes to involving youth and women CSOs into decision-making processes.
There is a need to build collaboration and good practices between local authorities, youth and CSOs so that their voices are taken into account in local decision-making. Furthermore, according to the Internal Affairs Department of Andijan region, Asaka has high crime and suicide rates among youth. 'Search for Common Ground' believes that engaging youth and building their capacity to involve local authorities to address youth issues and needs, can address underlying issues and improve youth livelihood in Asaka.
Increasing Collaboration collaboration between Youth Civil Society and Local Authorities
The EU-funded project, 'YoshStan: Raising youth voices in local capacity building,'was launched in April 2020 and is being implemented in 5 target areas of Asaka, Andijan. The project focuses on strengthening the capacity of local authorities and youth CSOs in Andijan and increasing collaboration between them to improve service delivery for young people.
The project includes layered capacity building workshops for youth CSOs to address specific financial or operational constraints and to support them in empowering youth in constructive advocacy. During the project launch, partners expressed that this project would be a great opportunity for Asaka to prosper and committed to supporting the project.
I have learned that I am the one, who can help my neighborhood, collaborating with like-minded people to make an improvement in the lives of people living around me
Youth leader from Navoi mahalla, Asaka
The first training took part on October 27-29, 2020 with local NGOs in Andijan, Mehrimiz Sizga, Istikbolli avlod, Youth Union, and Red Cross, and youth leaders from mahallas (neighbourhoods) in the Asaka region. Participants were highly engaged and impacted by the training's approach: Common Ground approach and programme development. One youth leader from Navoi mahalla of Asaka shared, "The training was an eye-opener for me. I realised projects can have social motives and are not always about making financial profit. And most importantly, I have learned that I am the one, who can help my neighborhood, collaborating with like-minded people to make an improvement in the lives of people living around me."
The Chairman of the Youth Affairs Agency demonstrated his support for the project by having a short talk with the participants during the training. He asked them to elaborate on their insights, future plans, and how the training has changed their thinking. He encouraged the participants to stay active and motivated, "Your being here shows how you are different from others. Motivation comes from your achievements and good deeds. I am sure Yoshstan will be a great opportunity for you all to stimulate your capacities and make great contributions to the development of the country."
Future project activities will include training for members of local authorities on how to lead equitable, effective, and inclusive governance and be involved in trust-building activities with youth, including collaborative policy assessment dialogue and a community outreach programme.
Way forward
The project will help to strengthen the collaboration between two main groups; youth CSOs and local authorities, who will join hands in involving youth and create inclusive governance that will empower youth to engage with the government in addressing issues in their communities. By the end of this project, approximately 30 young people and 20 local authorities will have acquired the skills needed to support collaboration and youth inclusion.
The wider community will be engaged through 6 town hall meetings, involving approximately 1,000 participants, to identify issues impacting youth service delivery. Trained youth CSOs will implement 10 initiatives supported by small grants to respond to these needs by facilitating collaboration between local authorities and youth. Learning conferences will be held where the grant beneficiaries will share their experiences and collect these success stories in a publication to be shared with organisations and interested parties.
Implementing organisations
Search for Common Ground, NGO Hamroh
Project duration

-

Project locations
Overall budget

€329 999

EU contribution

€329 999

100% of the overall budget